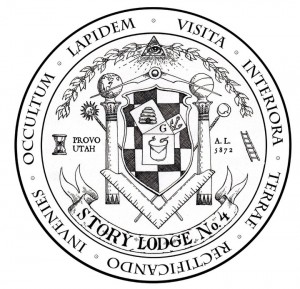 Story Lodge No. 4, Free and Accepted Masons of Utah
Chartered 8 October, 1872, Story Lodge No. 4 was the first lodge chartered by the Grand Lodge of Utah. Located in Provo, Utah; we have members throughout Utah, the United States and the Nations of the World. We are dedicated to uniting good men of all creeds and classes though Freemasonry's tenants of Brotherly Love, Relief, and Truth.
2B1 ~ ASK1
While we do not recruit members, we do welcome all sincere inquiries. Please join our MeetUp Group and Follow us on Facebook to stay informed of the many Lodge activities and events that you are welcome to attend.
The Utah Valley Masonic Temple is located at 875 West 1850 North, Provo, UT 84604
Stated Meeting – 1st Thursday, 7pm – All Freemasons Welcome!
Lodge (lite) Dinner – 1st Thursday, 6:30pm – Everyone Welcome - Please RSVP!
MeetUp Group – See MeetUp Page – Everyone Welcome!